For novice UI/UX designers, you will be very confused when you do not know which tool to choose for design. We will list the best 9 tools that UI/UX designers commonly use in 2023.
Top 9 UI/UX design tools 2023
Figma – Best UI/UX design tool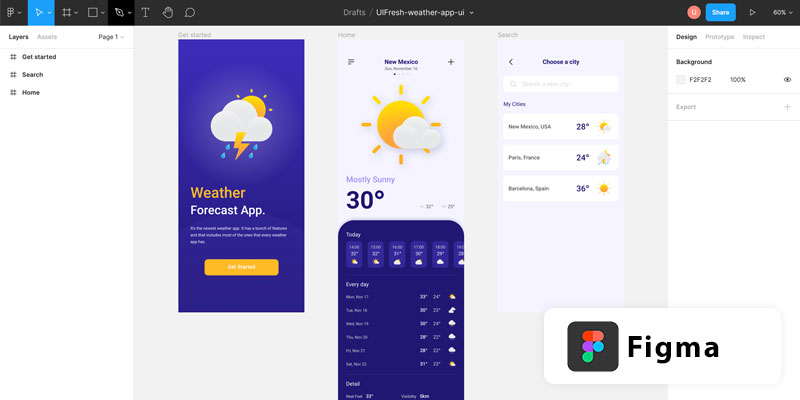 Figma is the tool most designers use today. It is considered the number one tool for UI design, prototyping, user flows, design systems, and handoff. Figma helps teams create, test, and ship better designs from start to finish. Fast and powerful, just like your work.
Availability: Web Browser, macOS, and Windows.
Pricing: Free plan available for up to 3 files, paid plan starts from $12 per editor/month.
Website: Figma.com
Adobe XD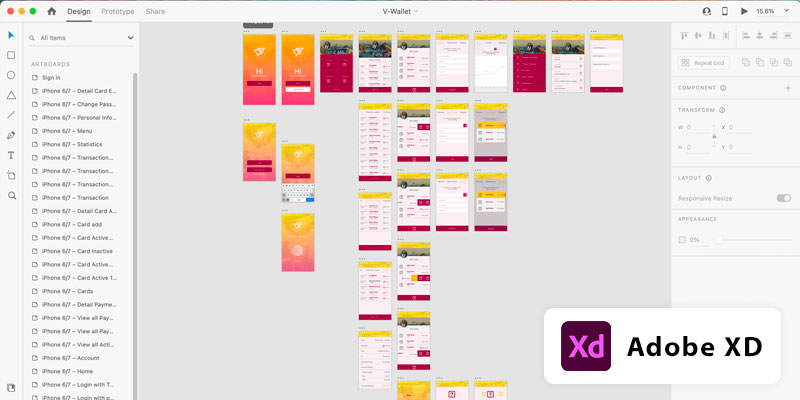 Adobe XD is a great tool for UI/UX designers, focused on creating product prototypes, websites, and mobile apps. It provides designers with the tools they need to create fully-fledged prototypes, animated transitions, element creation, including workflows, other dynamic elements, and others.
Availability: macOS and Windows.
Pricing: Free plan available for a file, paid plan starts from $9.99/month.
Website: Adobe.com/products/xd.html
Sketch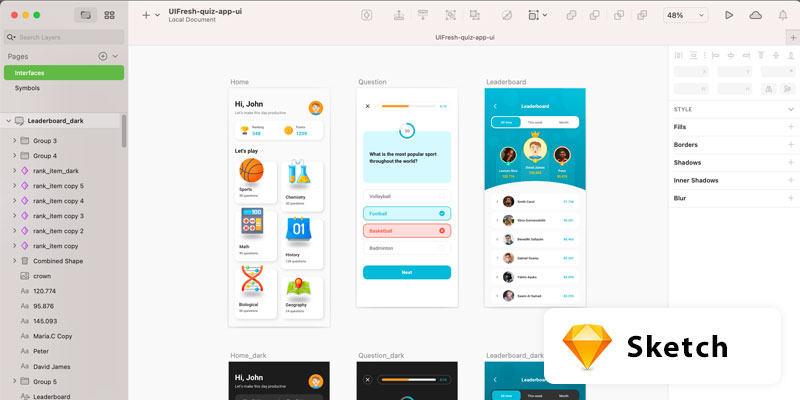 Sketch gives you all the tools you need for a truly collaborative design process. From early ideas to pixel-perfect artwork, playable prototypes, and developer handoff.
Availability: only macOS.
Pricing: Starts from $9.99 per editor/month and free 30-day trial.
Website: Sketch.com
InVision Studio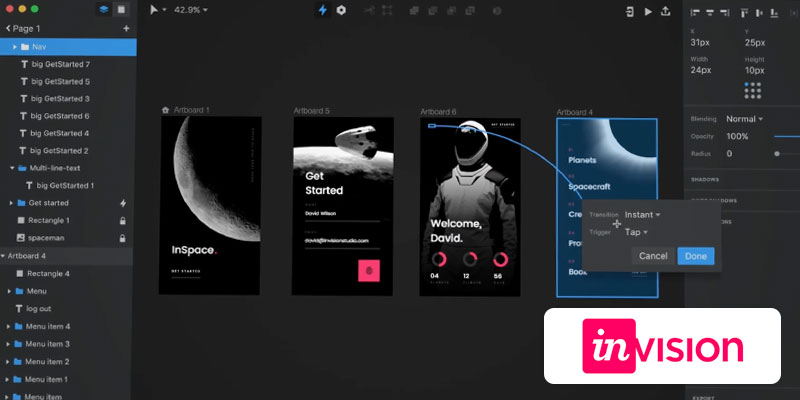 InVision Studio is a digital product design to a development platform for design and developer teams to build high-fidelity mobile and web prototypes. Your teams can turn ideas into screen designs using InVision's vector-based drawing and flexible layers. Users are able to prototype, refine, review, manage, and test digital products without code, as well as collaborate in real-time and collect feedback to help move projects forward.
Availability: Windows, and macOS.
Pricing: Free plan available for up to 3 documents, paid plans start at $7.95 per user/month
Website: Invisionapp.com/studio
Axure RP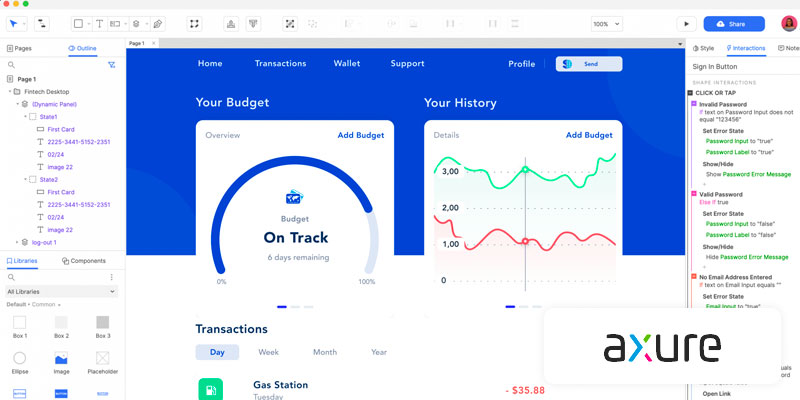 Axure RP is a wireframe and mockup software designed to help users create prototypes of apps and websites without facing any coding. Users can design the contents, functionality, and navigation of their user interfaces and validate their designs with browser-based prototypes.
It comes with sketch and flows diagrams, wireframe, basic prototyping, advanced prototyping, mobile prototyping, publishing, documentation and notes, custom widget libraries, built-in widgets for wireframing, team projects management, and customizable annotation fields features.
Availability: Windows, and macOS.
Pricing: Start at $25 per user/month
Website: Axure.com
Framer

Framer Web makes collaborative interactive prototyping accessible for you and your team. Watch as prototypes come together quickly thanks to effortless importing, insertable components, customizable Magic Motion animations, and so much more. Plus, pinnable comments and effortless sharing mean you'll iterate and ship faster than ever before.
Availability: Web Browser, macOS, and Windows.
Pricing: Free plan available for up to 3 projects, paid plans start at $20 per user/month
Website: Framer.com
UXPin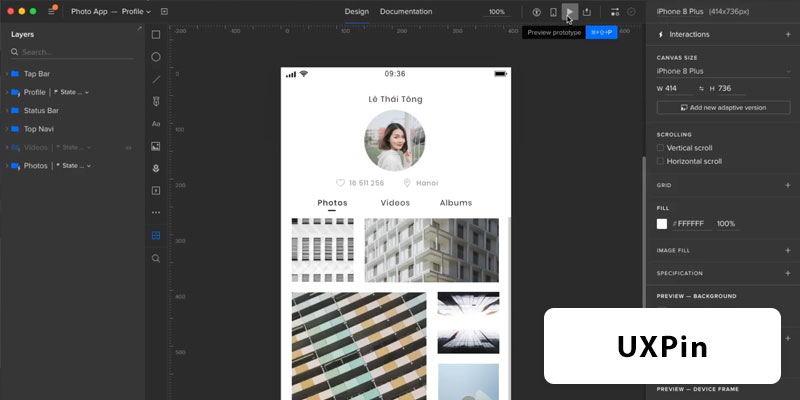 UXPin is the design tool ideal for design systems, interactive prototyping, and documentation. Some of our latest features include Variables, interactive states, expressions, conditional interactions, data generators, and more.
Availability: Web Browser, macOS, and Windows.
Pricing: Start at $19 per editor/month for beginners.
Website: Uxpin.com
Marvel App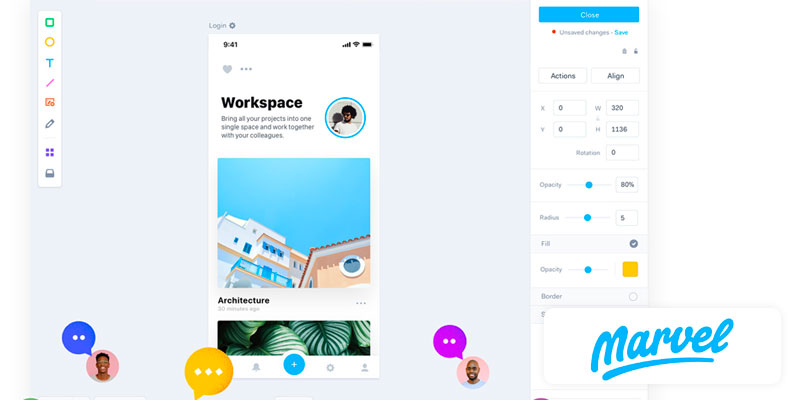 Marvel App built its online design platform with everyone in mind. They created a simple and intuitive design tool that enables everyone to quickly create beautiful assets and mockups. There's no learning curve and no software required, so everyone can get involved. Marvel App rapid prototyping, testing, and handoff for modern design teams.
Availability: Web Browser, Android, and iOS devices
Pricing: Free plan available with 1 user and 1 project, paid plan starts from $12/month.
Website: Marvelapp.com
Origami Studio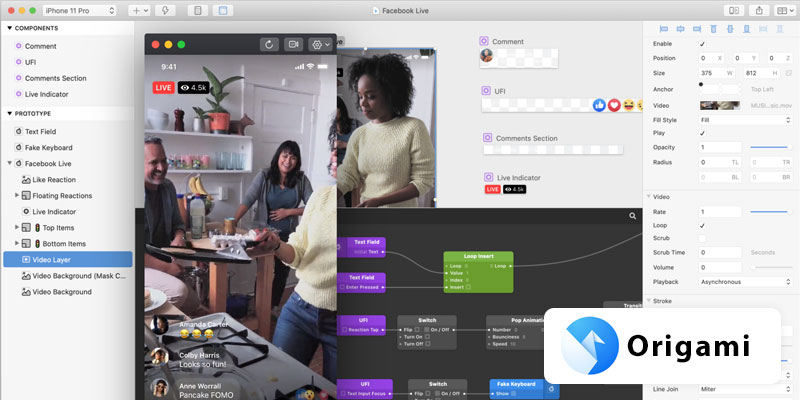 Origami is a free design prototyping tool developed by Facebook (Now is Meta). Some mighty developers have created this prototyping tool and published it for free & open source.
Origami lets you create design workflows based on your design drafts. You can run those prototypes even on your iPhone or iPad.
Availability: macOS, Android, and iOS apps
Pricing: Origami Studio is entirely free.
Website: Origami.design